Project: Trees for a new avenue to welcome visitors at RHS Garden Wisley
Client: Royal Horticultural Society (RHS)
Requirement: Prunus x yedoensis trees at 25-30cm+ girth
Date: 2019
Project Manager: James Hillier
---
Visitors to RHS Garden Wisley will now be greeted by a dramatic avenue of Prunus x yedoensis, supplied by Hillier Trees, as they make their way towards the brand-new Welcome building. Officially revealed to the public on 10th June 2019, the new multi-million-pound Welcome building is part of a major revamp of the world-famous gardens.
A Spectacular Revamp
In 2011, RHS Garden Wisley, near Woking in Surrey, began the process of a complete makeover of the gardens. An important part of this was the creation of an exciting new Welcome building at the entrance. To create real drama for arriving visitors, the RHS wanted to plant an avenue of flowering trees leading to the Welcome building. Renowned landscape architect Christopher Bradley-Hole, who was leading the project, specifically wanted Prunus x yedoensis (Yoshino Cherry) trees. This classic, flowering cherry would create instant impact along with a spectacular display every spring.
Sourcing Specific Trees at Volume
"We were approached by the RHS in 2016 to establish what volume of Prunus x yedoensis were available from our nursery," comments James Hillier, Account Manager at Hillier Trees. "They were looking for 120 trees all at 25-30cm+ girth – a challenging volume to find at that size. But we were able to confirm a good volume of stock growing on our field tree nursery in Hampshire. The RHS and Christopher Bradley-Hole visited to inspect the trees. Following this, we were appointed as majority supplier, working in partnership with another nursery."
Hillier containerised the Prunus x yedoensis, relocating them to the company's Broadmead container tree nursery. "We set aside a dedicated area at our Broadmead nursery solely for RHS Garden Wisley trees," says James. "The trees from the partner nursery were also delivered to Broadmead, including a number of parasol-trained plane trees. We nurtured them all over a period of two growing seasons, including necessary pruning of the plane trees. The RHS visited roughly twice a season to check on their trees' progress and health. They were very pleased on every occasion."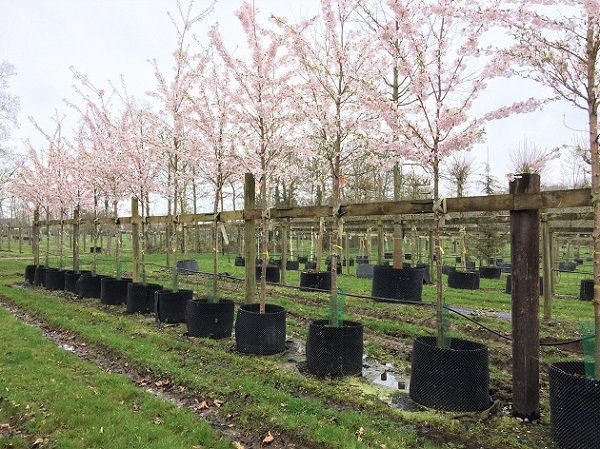 A row of Prunus x yedoensis, specifically for RHS Garden Wisley, at Hillier Broadmead Container Tree Nursery
---
Well Judged Deliveries
The trees were delivered and planted at RHS Garden Wisley in spring 2019. "We liaised with the Landscape Contractor, Blakedown, on a realistic number of trees to be planted daily," comments James. "We sent our deliveries in sensible quantities, twice weekly over a period of around 6 weeks, ensuring planting was complete in time for the opening ceremony."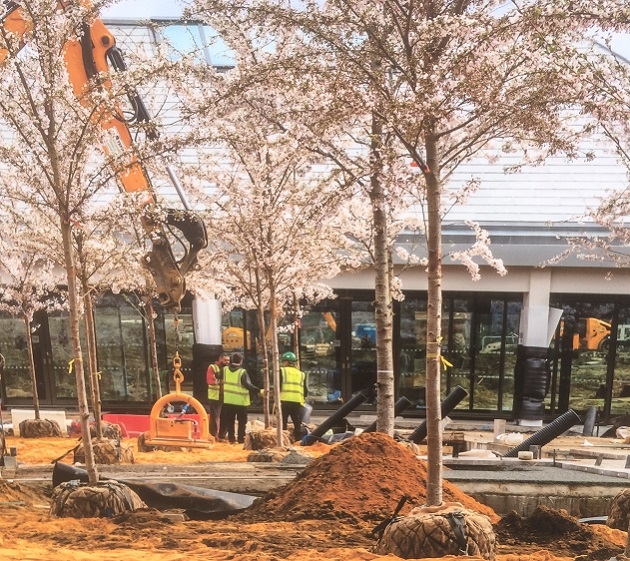 Planting of the new Prunus x yedoensis trees at RHS Garden Wisley

---
An Upbeat Unveiling Ceremony
The new avenue of trees was first seen by the public at the official unveiling of the RHS Garden Wisley Welcome building on 10th June 2019. At the ceremony, Alan Titchmarsh led the opening and delivered an upbeat speech in support of British growers. Guests were impressed by the new Welcome building, which includes an expanded garden centre, 100-seater cafe and gift shop along with the new avenue of trees that will grow in magnificence for years to come.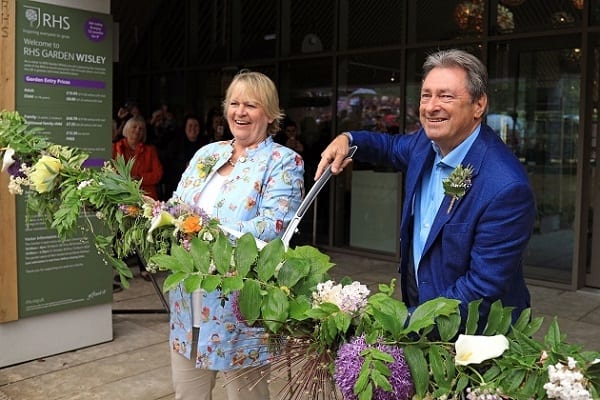 Alan Titchmarsh leads the opening ceremony for the new Welcome building at RHS Garden Wisley (photo credit RHS and Ollie Dixon)
---
"The RHS Garden at Wisley has long since had a relationship with the Hillier Nursery, with many of the original trees for the Jubilee Arboretum being supplied in the late seventies," comments Matthew Potage, Curator at RHS Garden Wisley. "We are proud to still have a strong working relationship for quality trees to this day, for one of the most exciting developments the garden has seen for many years."
Key Tree
The Yoshino Cherry is the classic Japanese cherry. It has a lovely spreading habit and produces almond-scented flowers, blushed white, in great profusion in March to April. This tree was specified by the RHS to create a beautiful spectacle and real drama highlighting the entrance to RHS Garden Wisley.