Project: Renovation of Holly Bush Farm Estate in Staffordshire
Client: Midland Contractors
Requirement: Dozens of semi-mature trees, including Pinus sylvestris, Betula nigra and Ulmus 'New Horizon' plus 40 fully formed yew hedges
Date: 2019
Project Manager: Jamie Gormley
---
Hillier Trees carried out a project to supply a number of semi-mature trees and mature hedging plants to Holly Bush Farm in Staffordshire.
Hillier was contacted by the landscape contractor for the project, Midland Contractors, who was responsible for all hard and soft landscaping. All elements needed to be designed to be of the absolute highest standard across the large estate. Alongside the quality requirements, it was also an important specification of the project that the finished result looked as though it had been in-situ for many years.
Creating Instant Impact with Trees
One of the key elements of the estate renovation was the creation of a large, impressive, swan lake at the entrance to the property. To bring instant visual impact to the lake, a number of semi-mature evergreen trees were requested in order to create tall canopy boundaries. Hillier visited the property to make recommendations for further tree species which would establish well within the site-specific conditions and offer visual appeal.
Large quantities of semi-mature trees were supplied over a series of deliveries, all of which were British-grown by Hillier Trees on the company's Hampshire tree nurseries. These included more than 50 semi-mature native pines for large evergreen boundaries to the properties.
Also planted were a number of Betula nigra multi-stem trees, chosen for their ability to establish close to water and the stunning visual appeal of their peeling bark. To offer contrast to the green of the pines, a Hillier cultivar, Betula utilis 'Jermyns', was recommended. This tree has striking, pure-white bark that is known to shine in the moonlight – a stunning sight reflected in the water of a lake at night.
The high quality of the tree's rooting system was essential to ensure successful establishment. All of the trees had been four times transplanted during their growth, giving fully fibrous root systems to help ensure they had minimal chance of failing.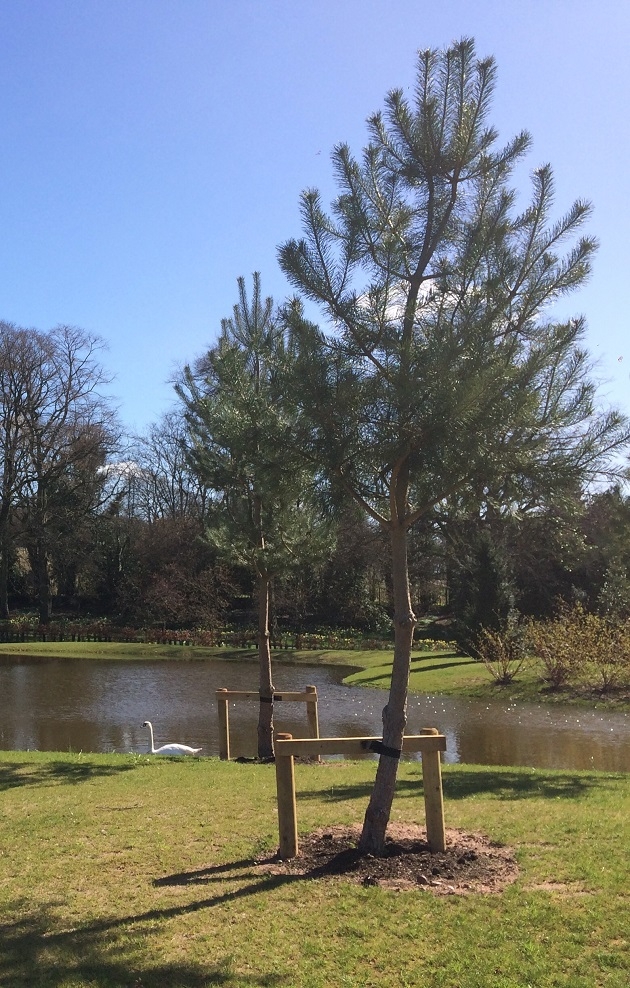 Characterful pines at the new swan lake at the Holly Bush Farm Estate
---
Privacy Through Mature Hedging
While assisting Midland Contractors, Hillier Trees also highlighted the instant mature hedging we grow, which could be used around the private gardens. A supply of 40 fully-formed 3.5m yew hedges, which had been grown in airpots for 18 months, were planted to attractively surround the existing stately home and garden.
"Hillier Trees provided tree recommendations which would not only be visually rewarding for the client, but establish well within the site conditions," comments Alex Veitch of Midland Contractors. "The semi-mature trees and instant hedging were all of the highest quality and delivered punctually."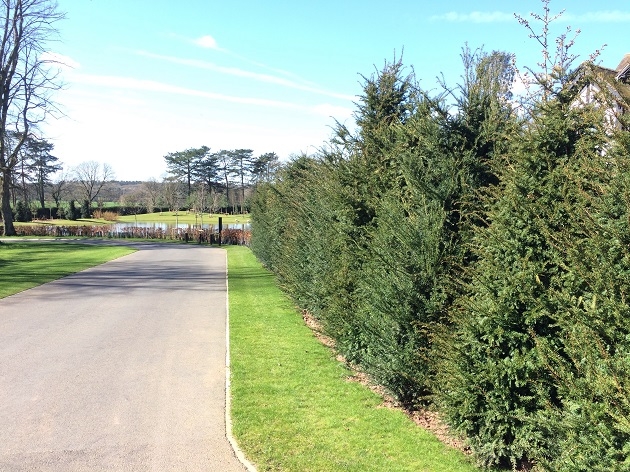 ---
Key Trees
Chosen to provide an evergreen backdrop surrounding the new lake and an instant visual boundary from the road.
A variety that can successfully be planted close to a lake, with visual appeal from its unusual peeling bark.
Striking white bark that reflects beautifully in water – a fantastic choice for a feature lake.
A Hillier exclusive variety of elm that is 100% resistant to Dutch Elm Disease and provides a great habitat for insects and butterflies.
A native cherry blossom with a uniformed, structural form.
Crataegus laevigata 'Paul's Scarlet'
A variety of hawthorn that offers a later flower display towards the end of spring, providing appeal after the Prunus avium blossom.
An ideal instant hedging variety, available at 3.5m height.