Project: The 'Avenues' transformation project by Glasgow City Council; pilot project Sauchiehall Avenue.
Client: Glasgow City Council and landscape contractor idverde
Requirement: More than 40 large, upright semi-mature trees at 40-60 girth, also supporting biodiversity
Date: Late 2018
Hillier Project Manager: Caroline Swann
---
Hillier Trees is delighted to have been part of the first project within a £115 million 'Avenues' transformation programme by Glasgow City Council. As a result of this pilot project, Sauchiehall Avenue, which runs from the west of the city into the centre, has been improved from a traffic-filled area to a friendly environment where people, bikes and cars can travel harmoniously. Hillier provided dozens of semi-mature trees, which were planted over a short period of time in late 2018. The Sauchiehall Avenue project was fully completed in September 2019.
The 'Avenues' programme is intended to deliver a key strategic objective of the Glasgow City Centre Strategy and Action Plan 2014-19; namely an integrated network of continuous pedestrian and cycle routes across the city centre, making the city more sustainable and economically competitive. "The 'Avenues' programme is really impressive in its ambition," comments Caroline Swann, Account Manager at Hillier Trees. "In total, Glasgow City Council intend to transform 17 streets and adjacent areas. This will significantly improve the environment and introduce green infrastructure across the city."
The brief for Sauchiehall Avenue, the pilot avenue within the overall project, came to Hillier from both Glasgow City Council and landscape contractor idverde. "This was a street that had never had trees planted down it before," comments Caroline. "The request was for trees that would clearly mark out the new cycle route, as well as bringing great benefits to the appearance and environment of the avenue."
Important factors driving tree selection were size, biosecurity and biodiversity. "Large, upright, semi-mature trees at 40 – 60cm girth were wanted for this project, so they would have the desired immediate impact," says Caroline. "To support biodiversity, the avenue was planned with a mixture of tree species. The brief was also very clear on the importance of biosecurity and the project favoured British-grown trees."
Representatives from Glasgow City Council and idverde visited Hillier's field tree nursery in Hampshire and selected more than 40 trees. Varieties chosen were Acer campestre 'William Caldwell', Carpinus betulus 'fastigiata', Acer platanoides 'Deborah' and Gingko biloba. All of these exhibit a fairly upright habit and are tolerant of urban situations, making them ideal for the planting environment.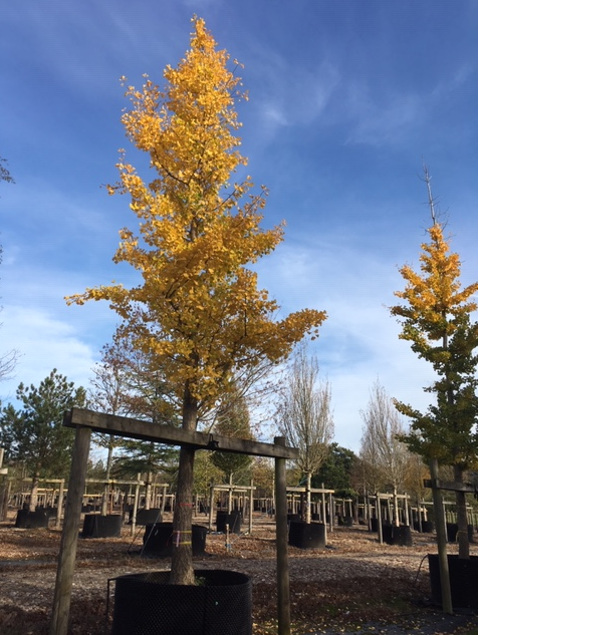 Gingko biloba containerised at Hillier Tree Nursery in Hampshire
---
Once selected, all the trees were containerised into Spring Ring or Air-Pot containers at Hillier Container Tree Nursery in Hampshire and kept in a dedicated area. Containerising would give the trees the best possible chance of successfully establishing when planted on site. Each tree was also tagged with the orientation it would be in when finally planted – towards the road, towards the shops etc. Because of the requirement for a 3 metre clear stem, Hillier carefully raised the canopy on the trees.
The size of the trees meant, once it was time for planting, only a small number could be safely loaded per lorry. As a result, multiple deliveries were made over a relatively short period of time, fitting with the progress of development work.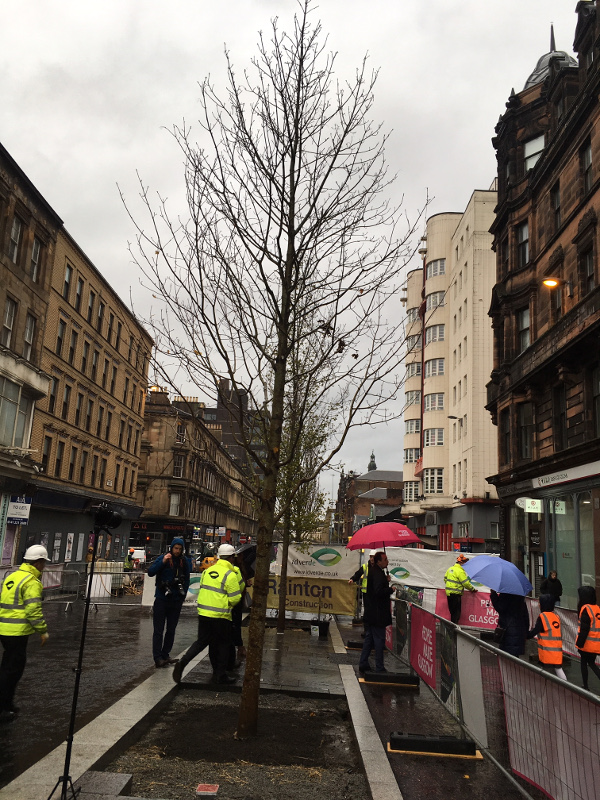 Sauchiehall Avenue Tree Planting Ceremony, November 2018
---
On 7th November 2018, Hillier joined an inaugural tree planting ceremony at Sauchiehall Avenue, together with Councillor Susan Aitkens, Leader of Glasgow City Council and pupils from Garnetbank Primary. Following the ceremony, Hillier gave a presentation to the school about trees, inspiring the next generations' interest in these most important parts of the natural world.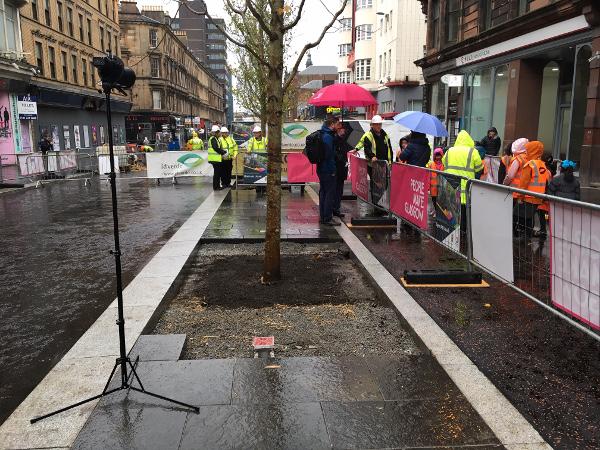 Sauchiehall Avenue Tree Planting Ceremony, November 2018
---
"The completion of Sauchiehall Avenue is a milestone for the rebirth of this famous Glasgow thoroughfare," commented Councillor Susan Aitken, Leader of Glasgow City Council. "The wider Avenues project will help us make the most of the fantastic economic potential of so many districts in the city centre and meet the challenges facing it."
"It has been a privilege to be part of such a remarkable transformation project that is making a real difference to the feel of the city," says Caroline Swann. "To see trees planted along Sauchiehall Avenue for the first time and appreciated by the community has been very inspiring. We hope they continue to flourish in their new locations. We have been incredibly impressed by the care given by the idverde team, so the trees are flourishing."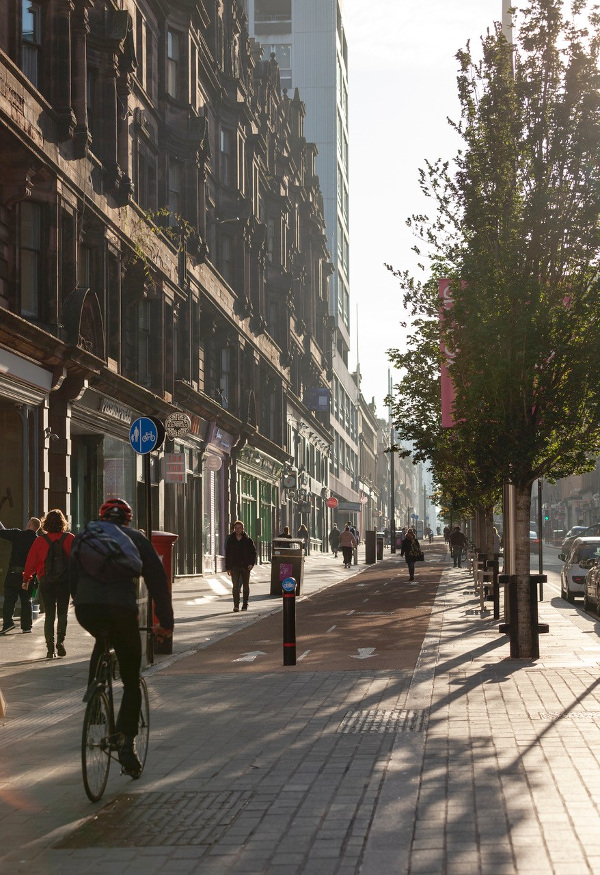 Pedestrians and cyclists alike enjoying the transformation and new trees along Sauchiehall Avenue
---
Sandra Goldie, Business Development Manager at idverde added; "In this Avenue pilot project, successful partnership between the client, Glasgow City Council, idverde Ltd and Hillier Trees, demonstrated the importance and harmony of expert design and planning, civil engineering innovation and structural design in achieving a sustainable urban greening and flood protection vision."
This project was commended at the BALI National Landscape Awards 2019, where idverde were an Award Winner within the Soft Landscaping Construction (Non-Domestic) – over £500k category. The award recognised the high level of professionalism, workmanship and client satisfaction that will bring credit to the landscape industry.
---
Key Trees
Acer campestre 'William Caldwell'
A hardy tree with a tall, slim, fastigiate shape that thrives in most soil conditions. It is ideal for tight, urban locations and offers attractive foliage colour in autumn.
A variety of common hornbeam with a neat habit. This hardy British native tolerates poor planting conditions, thriving even in heavy unfavourable soil, making it ideal for a wide range of project requirements.
An excellent variety of Norway maple for urban locations as it endures reflected heat, is quite drought tolerant, and is resilient to pollution. In autumn, the canopy cover becomes a firework display of red, burnt orange and yellow.
The origin of the national tree of China can be dated back millions of years and it is a favourite among landscapers. Renowned for its stunning autumn beauty, when planted and matured along avenues it can transform roadways into avenues of international recognition.