Project: Hillier Trees Brings Lost Elms to Stoke Park, Coventry
Client: Coventry City Council
Requirement: 18 x Ulmus 'New Horizon'
Date: 2018
Project Manager: Jamie Gormley
Internal Support: Tracey Russell
---
Hillier recently supported Coventry City Council and a local residents' group in their quest to maintain feature trees in Stoke Green Park. Hillier supplied 18 Ulmus 'New Horizon' trees for a new avenue within the park, simultaneously helping the Council and Tree Warden Group in their wish to re-establish the magnificent elm.
Stoke Green Park had an existing avenue of large, old horse chestnut trees, but the Council were extremely concerned that they were becoming a danger to the public. Two of the trees had already been cut back, which was hastening the demise of the remaining ones. Working in consultation with local residents, it was recognised that these big trees were an important feature of the park and should be retained as long as possible. The solution was to fence off the horse chestnuts, leaving them to decline naturally, and plant another tree avenue nearby.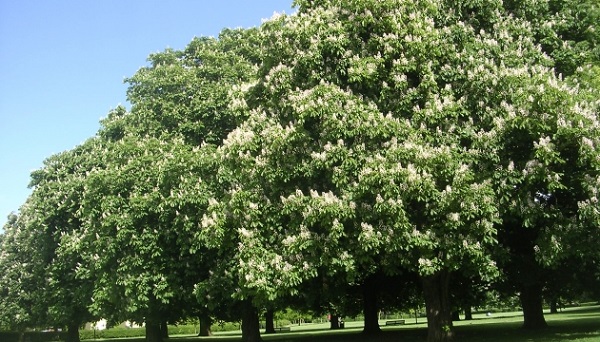 The existing avenue of horse chestnut trees
---
"We were approached by the Coventry Tree Wardens Group about this project," comments Jamie Gormley, Account Manager at Hillier Trees. "They had heard that we grow a disease-resistant elm variety, Ulmus 'New Horizon', on our tree nurseries. They thought this could be a suitable option for the new avenue of trees they were planting. They were very keen on the idea of helping re-establish elms in Britain, in light of their tragic loss in the 1960s to Dutch elm disease."
Our Disease-Resistant Elm
Ulmus 'New Horizon' is the result of a partnership between Hillier and specialist elm breeders in the USA and Europe. The aim was to develop a species resistant to Dutch elm disease, which so disastrously claimed more than 30 million mature elm trees in the UK alone.
Over the last 30 years, Ulmus 'New Horizon' has been planted in select locations across Europe and the UK and has proven to be Dutch elm disease resistant. Years of propagation by Hillier has allowed the number of U. 'New Horizon' trees grown on the company's tree nurseries to reach a reasonable level. Against this backdrop, in May 2019 Hillier launched a campaign; 'Re-elming the British Countryside' at RHS Chelsea Flower Show, led by Dame Judi Dench. Through it, Hillier hopes to expand the presence of the glorious elm throughout Great Britain.
"The great thing about Ulmus 'New Horizon' is not only that it is proven disease-resistant, but also how incredibly tolerant it is of almost any condition," adds Jamie. "From floods to frost, poor soil and pollution it can withstand almost anything. This made it easy for us to agree with it as an excellent selection by the Coventry Tree Wardens Group."
Support from Residents
To facilitate the project, two local residents' groups put in a funding application, with information supplied by the council, to Waste Recycling Environmental Limited (WREN). They were awarded £21,000 towards the project. As a thoughtful, creative, addition there was also a request to turn one of the old horse chestnut trees into a sculpture, the design of which was done by a local child.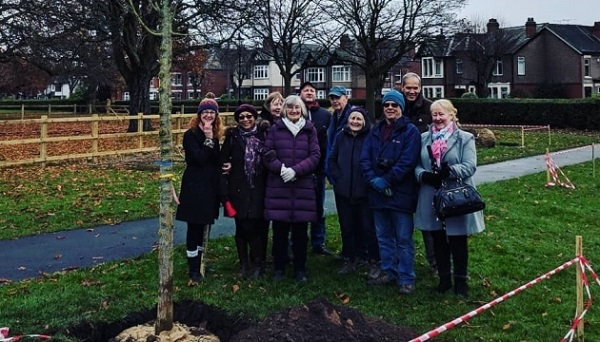 Local residents, who, together with the council, had secured funding for the project join for the planting of the first tree
---
Planting Success
"We supplied 18 Ulmus 'New Horizon' trees in a single delivery in November 2018 to line the newly created avenue," says Jamie. "These were carefully planted by Acorns Ltd with a 100% success rate."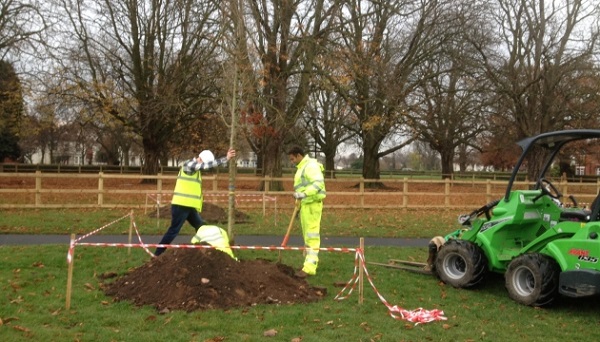 Planting the new avenue of Ulmus 'New Horizon', supplied by Hillier Trees
---
"The local residents love the change to Stoke Green Park," comments Tim Wetherhill, Urban Forestry Officer at Coventry City Council. "This project has prolonged the life of the old horse chestnut trees while also resurrecting the elm tree in England. We are very grateful to Hillier for providing such great, consistent specimens."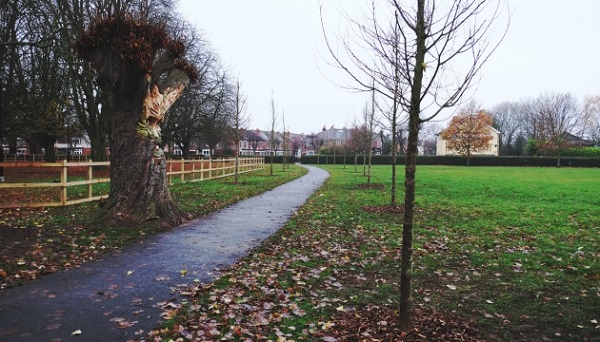 The new row of Ulmus 'New Horizon' plus creative Green Man sculpture in a horse chestnut trunk