Age Restricted Item
This product is restricted by age and will require confirmation on purchase, and ID on delivery to show that you are over 18.
Exceptional Item
Please note this is classed as an exceptional item due to its size and will incur a delivery surcharge at checkout.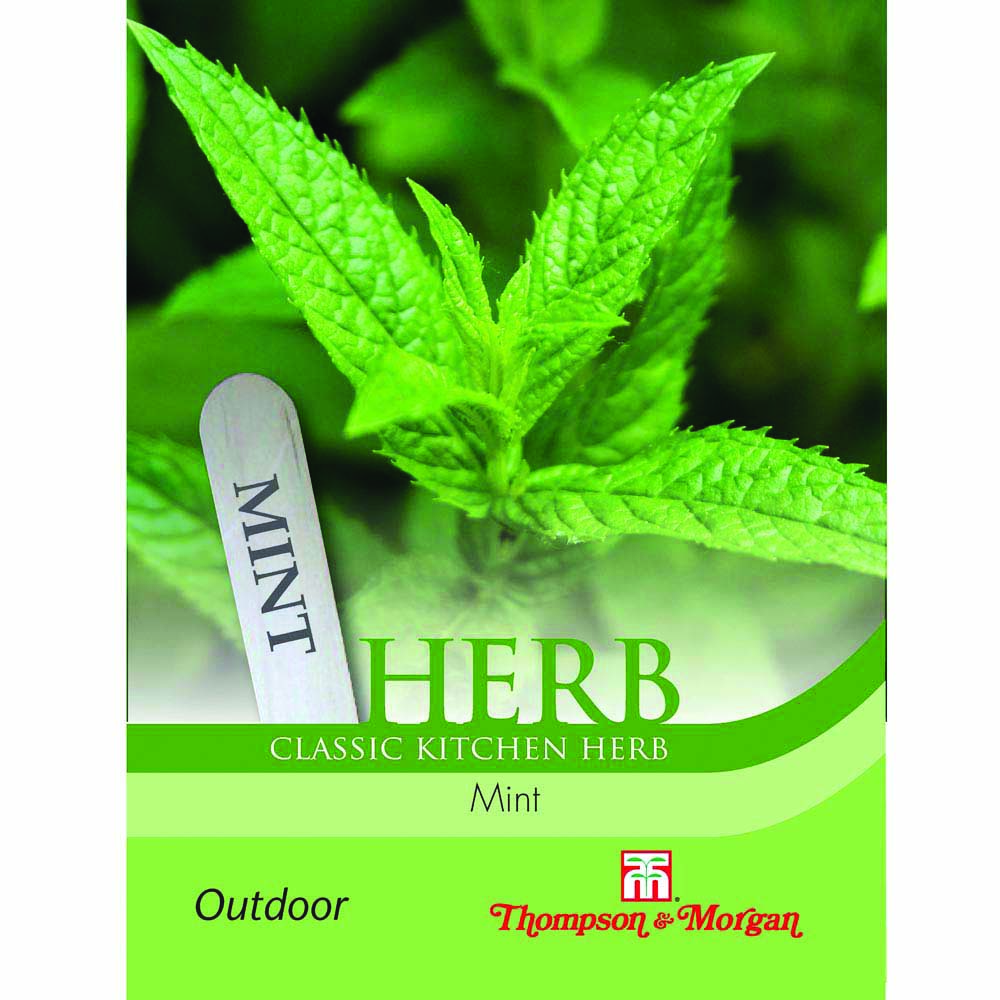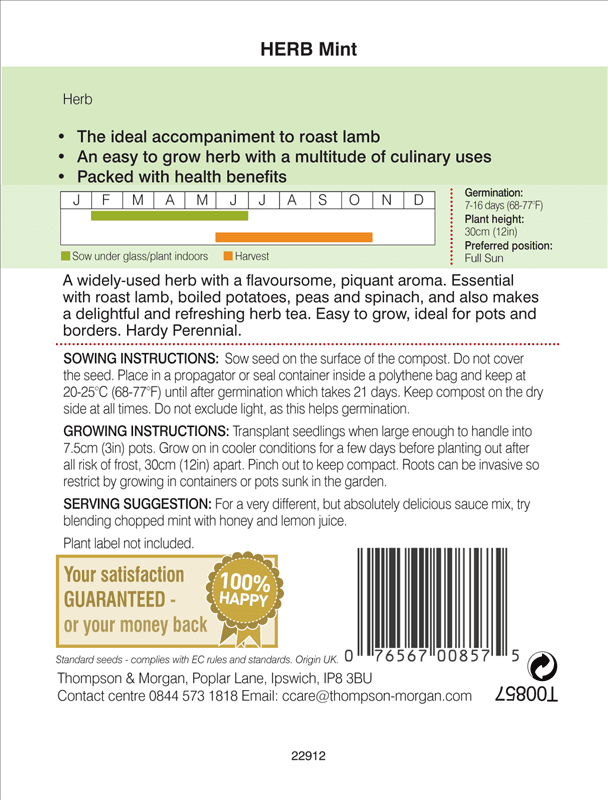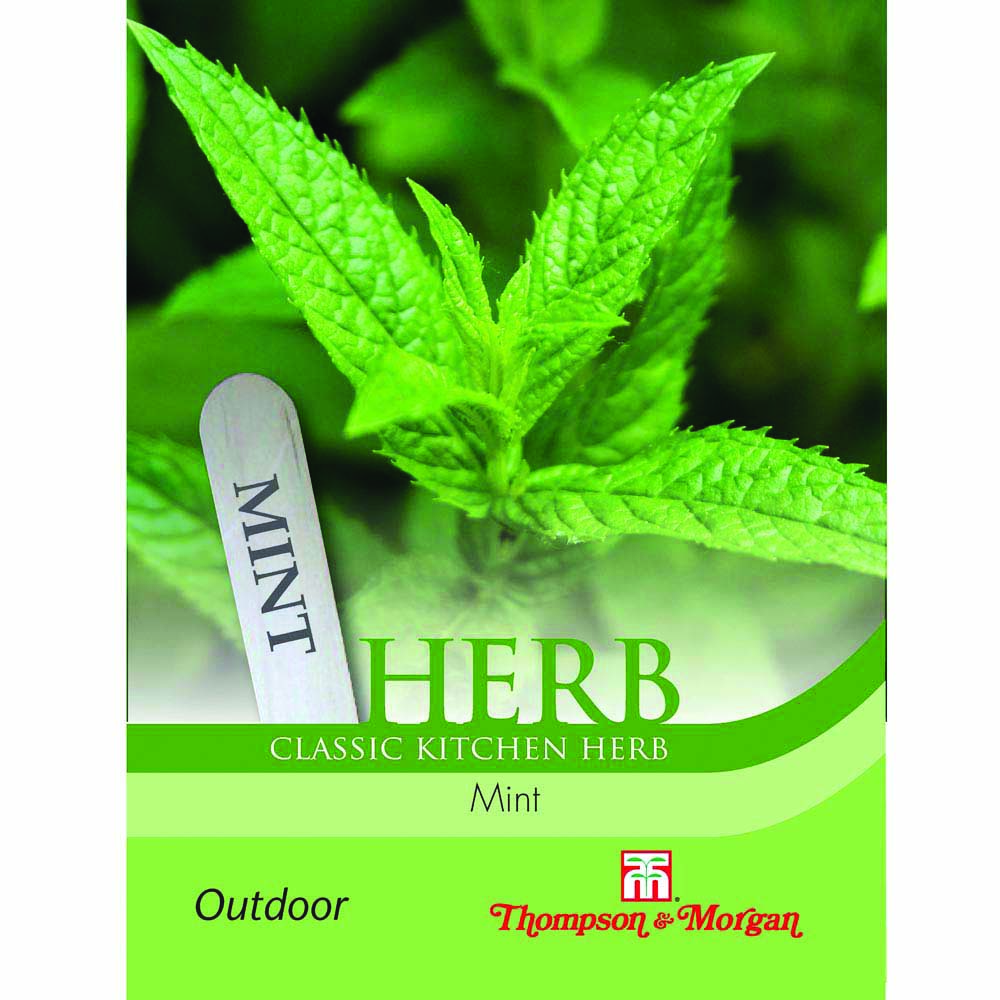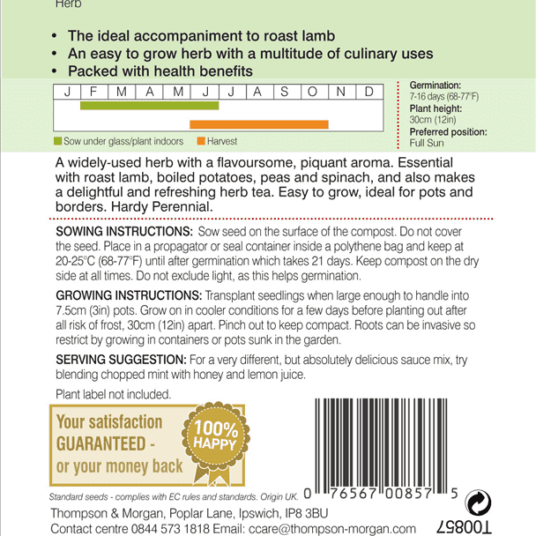 Herb Mint (Peppermint)
SKU: 00250567
To save products, log in to your Gardening Club account or create a free account.
Add to Basket
Could not add to basket, please try again.
Product Details
Very versatile, for tangy mint sauce or garnish on new potatoes or peas.
Cooking: the ideal accompaniment to roast lamb - for an unusual but delicious sauce mix with honey and lemon juice. Add to boiled new potatoes, peas, make mint jelly or garnish summer drinks.
Companion Plant: mint has a piquant aroma and as such is disliked by much of the insect world. Above all, plant mint close to all brassicas and it will repel the cabbage white butterfly and a sprig or two in your wardrobe will keep moths out of your clothes.
Nature's Remedy: It has a remarkable reputation with indigestion, for calming the nerves, for soothing sleep and recurring sickness. Many herbalists claim it aids virility and can be used against migraine. Pour 1 cup of boiling water over 1 tablespoonful of chopped fresh leaves and leave to stand for 30 minutes. Take as required a tablespoon at a time.
Seeds & Bulbs
157
76567008575
| | |
| --- | --- |
| Sow | February - June |
| Harvest | June - October |
| Bulb/Seed Count | 1250 |
Delivery Information
Standard Delivery

UK delivery shipped within 5 working days, Monday to Friday via DPD.

£6.99 Free delivery on orders over £100

Small Item Delivery (Applies to small items such as packets of seeds).

UK delivery shipped within 5 working days, Monday to Friday. Delivered via Royal Mail, or DPD.

£2.99

Gift Cards

UK delivery shipped within 48 hours, Monday to Friday, sent via Royal Mail.

Free

Furniture & Barbecue delivery

We can deliver to addresses in Bedfordshire, Berkshire, Buckinghamshire, Cornwall, Dorset, Devon, East Sussex, Essex, Gloucestershire, Hampshire, Herefordshire, Hertfordshire, Kent, London (addresses within the congestion charge zone will incur a surcharge) Northamptonshire, Oxfordshire, Somerset, Surrey, Warwickshire, West Sussex and Wiltshire.

For any locations outside of this, we are still able to deliver, but please contact us at onlineshop@hillier.co.uk for a bespoke delivery estimate.

Delivery to these regions, within 7-14 working days, Monday to Friday. Delivered by Hillier.

£14.99 Free delivery on orders over £499 (Addresses within the congestion charge zone will incur a surcharge)

Exceptional Item Surcharge

For over-sized items (such as heavy items over 10kg or large items over 1 metre) an additional surcharge will apply depending on the item and will be confirmed at checkout.

Confirmed at checkout.
Seasonal Timings
Follow our calendar below for recommended sowing and harvesting times.
When To Sow
When To Harvest