Age Restricted Item
This product is restricted by age and will require confirmation on purchase, and ID on delivery to show that you are over 18.
Exceptional Item
Please note this is classed as an exceptional item due to its size and will incur a delivery surcharge at checkout.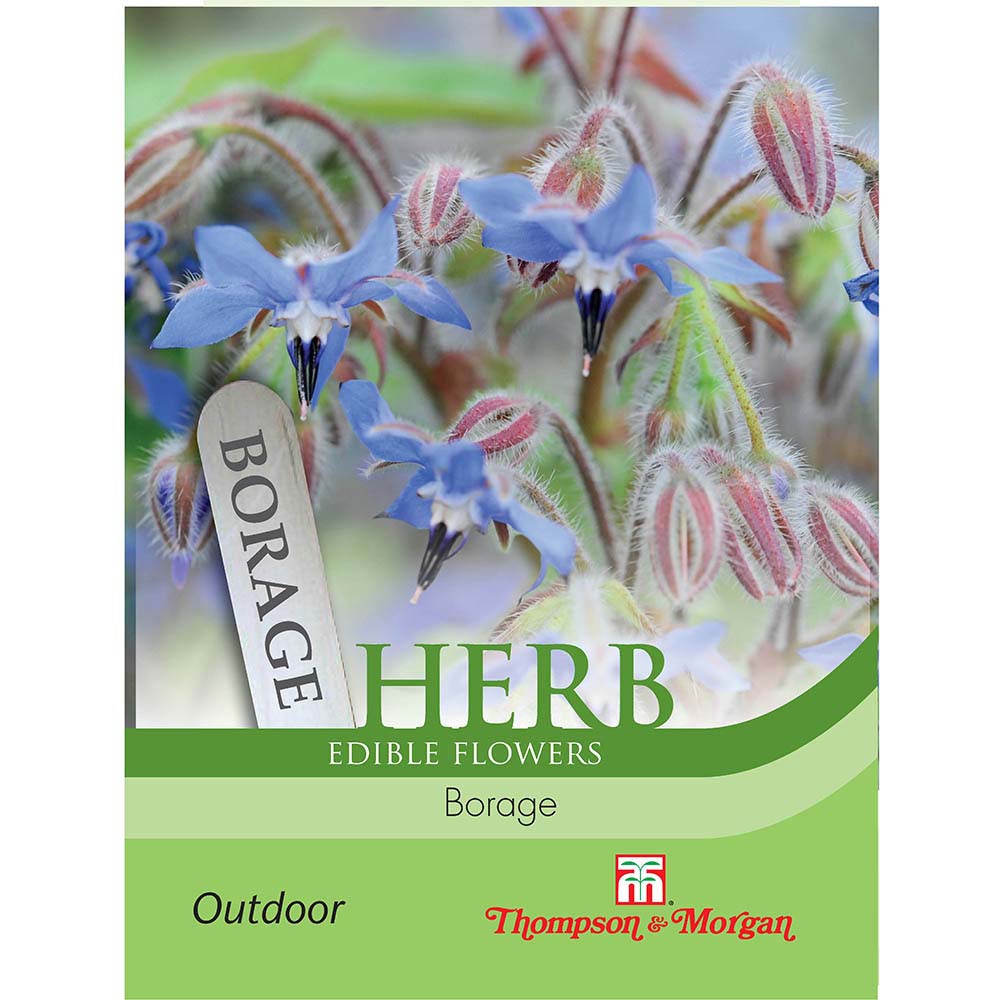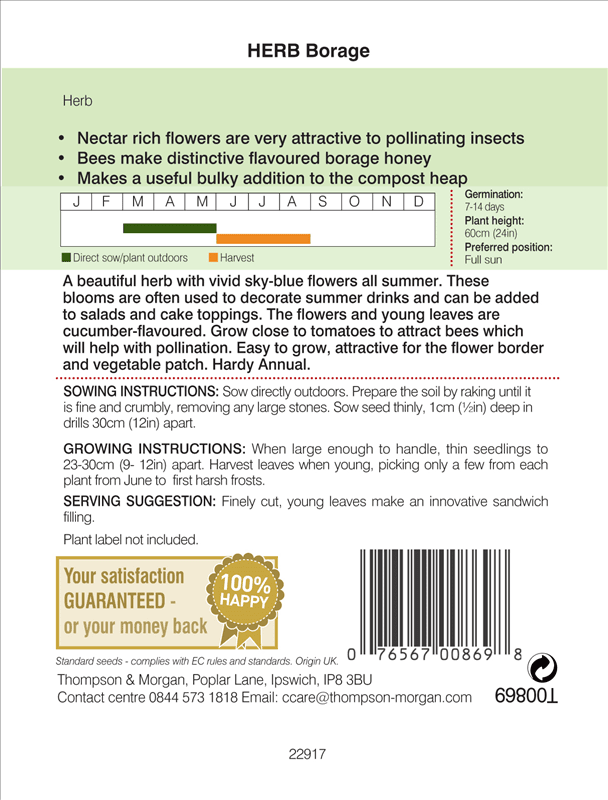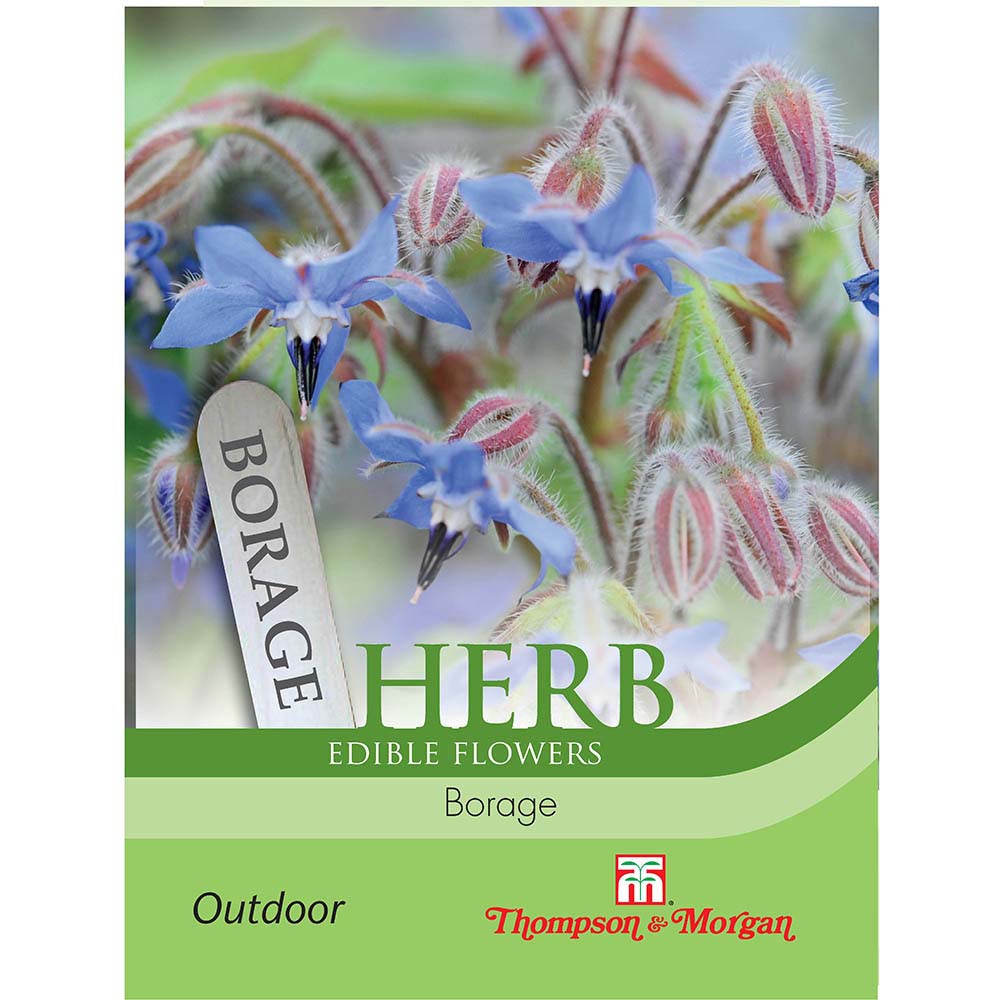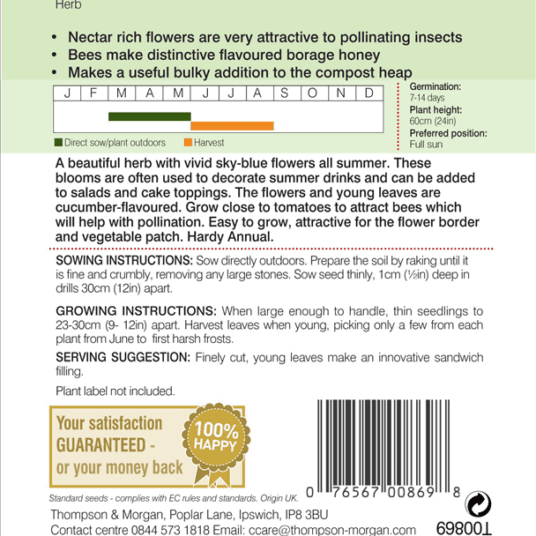 Herb Borage
SKU: 00144134
To save products, log in to your Gardening Club account or create a free account.
Add to Basket
Could not add to basket, please try again.
Product Details
A beautiful upright herb with rough leaves covered with silvery hairs and most attractive celestial blue flowers beloved by bees. Borage is an annual growing to 45-90cm (18-36in) which self seeds happily.
Cooking: add Borage to summer drinks and wines because of its, cucumber flavour. Chopped leaves make a healthy soup or young leaves can be dipped in batter and lightly fried until crisp. Finely cut leaves make a delicious sandwich filling.
Companion plant: grow it close to tomatoes to attract bees which fertilise the tomato blooms, and anything else in the vegetable garden.
Nature's remedy: Borage is a fine source of calcium and potassium and is recommended for toning up the glandular system, and all bronchial, lung and chest disorders. Prolonged use is not advisable.
Special note: always check with your doctor before using herbs for medicinal purposes.
Seeds & Bulbs
157
76567008698
| | |
| --- | --- |
| Sow | March - May |
| Harvest | June - August |
| Bulb/Seed Count | 100 |
Delivery Information
Standard Delivery

UK delivery shipped within 5 working days, Monday to Friday via DPD.

£7.99 Free delivery on orders over £250

Small Item Delivery (Applies to small items such as packets of seeds).

UK delivery shipped within 5 working days, Monday to Friday. Delivered via Royal Mail, or DPD.

£2.99

Gift Cards

UK delivery shipped within 48 hours, Monday to Friday, sent via Royal Mail.

Free

Furniture & Barbecue delivery

We can deliver to addresses in Bedfordshire, Berkshire, Buckinghamshire, Cornwall, Dorset, Devon, East Sussex, Essex, Gloucestershire, Hampshire, Herefordshire, Hertfordshire, Kent, London (addresses within the congestion charge zone will incur a surcharge) Northamptonshire, Oxfordshire, Somerset, Surrey, Warwickshire, West Sussex and Wiltshire.

For any locations outside of this, we are still able to deliver, but please contact us at onlineshop@hillier.co.uk for a bespoke delivery estimate.

Delivery to these regions, within 7-14 working days, Monday to Friday. Delivered by Hillier.

£14.99 Free delivery on orders over £499 (Addresses within the congestion charge zone will incur a surcharge)

Exceptional Item Surcharge

For over-sized items (such as heavy items over 10kg or large items over 1 metre) an additional surcharge will apply depending on the item and will be confirmed at checkout.

Confirmed at checkout.
Seasonal Timings
Follow our calendar below for recommended sowing and harvesting times.
When To Sow
When To Harvest