Age Restricted Item
This product is restricted by age and will require confirmation on purchase, and ID on delivery to show that you are over 18.
Exceptional Item
Please note this is classed as an exceptional item due to its size and will incur a delivery surcharge at checkout.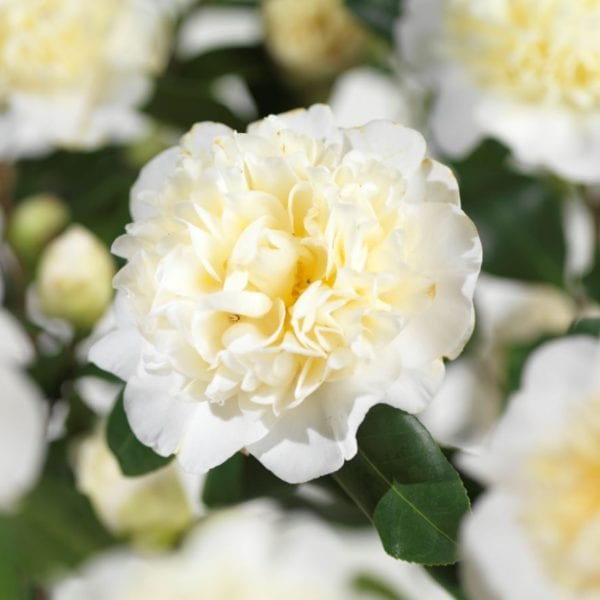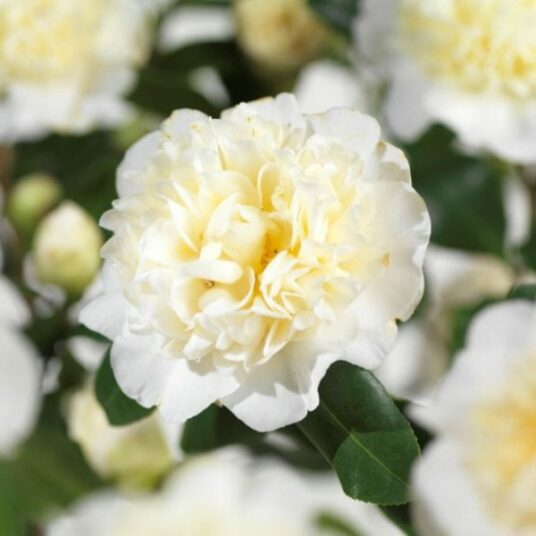 Camellia japonica 'Brushfield's Yellow' 3L
Camellia 'Brushfield's Yellow'
SKU: 00203865
£29.99£24.99 Gardening Club Price.
Pot Size:3L (Pots Sizes Explained)
To save products, log in to your Gardening Club account or create a free account.
Add to Basket
Could not add to basket, please try again.
Product Details
Grown on our own nursery
This Camellia japonica flower is an enduring evergreen shrub that adds timeless beauty to any outdoor space or garden. Featuring dark green foliage and stunning and rose-like flowers, the Camellia japonica captivates with its wide array of colours, including shades of red, pink and white.
This will thrive in partial to full shade. This versatile plant is a low-maintenance choice, perfect for both experienced and novice gardeners. For optimal results plant it in well-drained acidic soil. Keep the soil consistently moist and provide protection from harsh winter winds. Pruning after flowering will encourage bushier growth and more prolific blooms ensuring a garden of enchantment year after year.
Plants
27
5023242328034
white
| | |
| --- | --- |
| Height | 2 Metre(s) |
| Spread | 1 Metre |
| Position | Full sun |
| Soil Type | Moist, but well-drained soil |
| Water | Keep well watered until established |
Care Guide:Remove spent flowers, and any damaged stems after flowering
Delivery Information
Standard Delivery

UK delivery shipped within 5 working days, Monday to Friday via APC.

£6.99 or Free on orders over £100

Limited time offer: Free Delivery on orders over £50

Small Item Delivery (Applies to small items such as packets of seeds).

UK delivery shipped within 5 working days, Monday to Friday. Delivered via Royal Mail or APC.

£2.99

Gift Cards

UK delivery shipped within 2 working days, Monday to Friday, sent via Royal Mail.

Free

Furniture & Barbecue delivery

We can deliver to addresses in Bedfordshire, Berkshire, Buckinghamshire, Dorset, Devon, East Sussex, Essex, Gloucestershire, Hampshire, Herefordshire, Hertfordshire, Kent, London (addresses within the congestion charge zone will incur a surcharge) Northamptonshire, Oxfordshire, Somerset, Surrey, Warwickshire, West Midlands, West Sussex and Wiltshire.

For any locations outside of this, we are still able to deliver, but please contact us at onlineshop@hillier.co.uk for a bespoke delivery estimate.

Delivery to these regions, within 7-14 working days, Monday to Friday. Delivered by Hillier.

£14.99 or Free on orders over £100 (Addresses outside of our regions and within the congestion charge zone will incur a surcharge please contact us to confirm)

Exceptional Item Surcharge

For over-sized items (such as heavy items over 10kg or large items over 1 metre) an additional surcharge will apply depending on the item and will be confirmed at checkout.

Confirmed at checkout.