Age Restricted Item
This product is restricted by age and will require confirmation on purchase, and ID on delivery to show that you are over 18.
Exceptional Item
Please note this is classed as an exceptional item due to its size and will incur a delivery surcharge at checkout.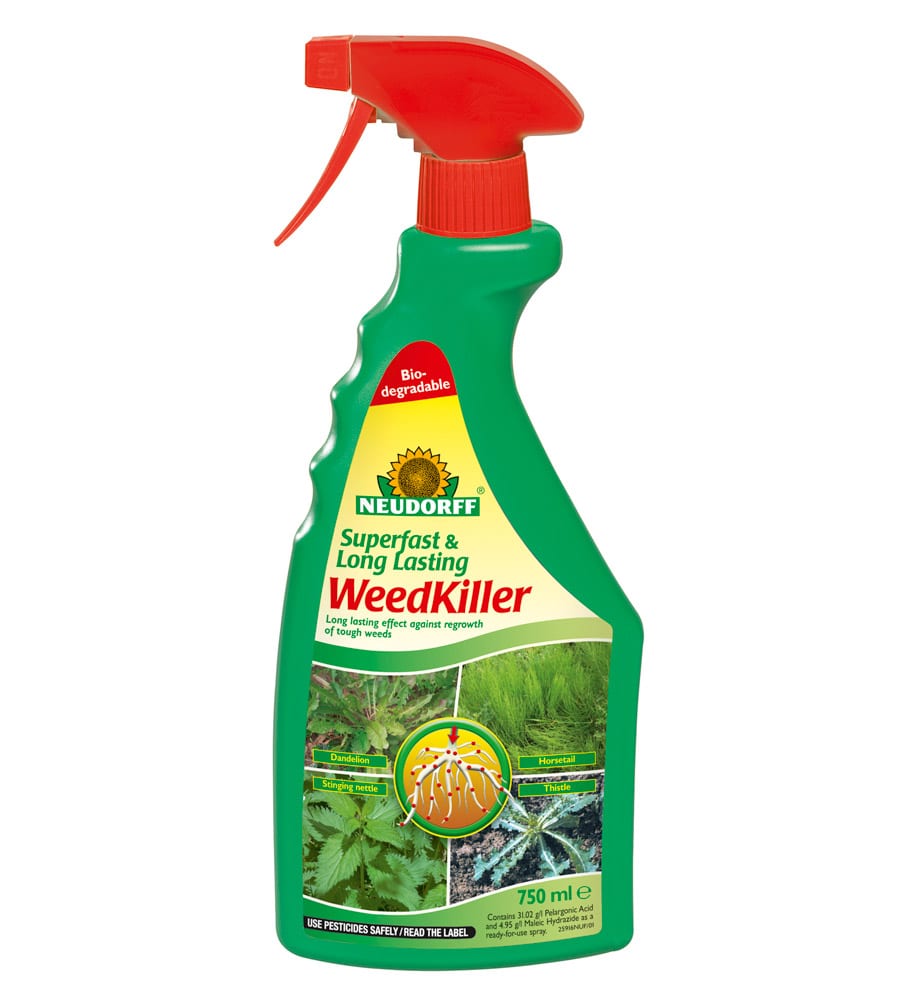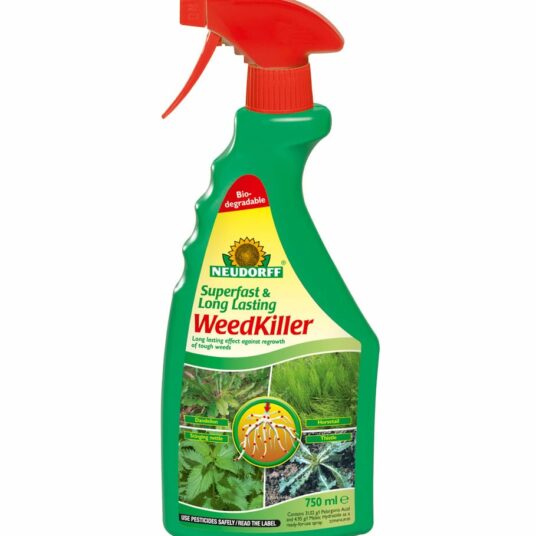 Age Restricted Item
Superfast & Long Lasting Weedkiller 750ml
SKU: 00208205
To save products, log in to your Gardening Club account or create a free account.
Add to Basket
Could not add to basket, please try again.
Product Details
Neudorff's Weedfree Plus natural weed killer is a long lasting weed killer, with the unique combination of natural active ingredient it fights weeds with quick and long lasting effects. Visible results within 24 hours of treatment, suitable for gardens and allotments. Children and pets are able to enter treated areas as soon as the spray has dried. Treated areas can be replanted after just 2 days. Long lasting - works down to the roots. Complete herbicide for both weeds and grasses. Works against problematic weeds such as goutweed, field horsetail, moss and algae. Effective at low temperatures. Biodegradable.
How to use:
Ready-to-use spray.
Drench the weeds thoroughly to guarantee an optimum absorption of the active ingredients.
Spray the weeds at a quantity of 100 ml product/m². Good spray cover of the weeds is essential.
Weeds must be dry before application.
Do not direct spray or allow spray drift onto cultivated plants!
Always read the label.
Gardening
345
4005240136164
Delivery Information
Standard Delivery

UK delivery shipped within 5 working days, Monday to Friday via DPD.

£7.99 Free delivery on orders over £250

Small Item Delivery (Applies to small items such as packets of seeds).

UK delivery shipped within 5 working days, Monday to Friday. Delivered via Royal Mail, or DPD.

£2.99

Gift Cards

UK delivery shipped within 48 hours, Monday to Friday, sent via Royal Mail.

Free

Furniture & Barbecue delivery

We can deliver to addresses in Bedfordshire, Berkshire, Buckinghamshire, Cornwall, Dorset, Devon, East Sussex, Essex, Gloucestershire, Hampshire, Herefordshire, Hertfordshire, Kent, London (addresses within the congestion charge zone will incur a surcharge) Northamptonshire, Oxfordshire, Somerset, Surrey, Warwickshire, West Sussex and Wiltshire.

For any locations outside of this, we are still able to deliver, but please contact us at onlineshop@hillier.co.uk for a bespoke delivery estimate.

Delivery to these regions, within 7-14 working days, Monday to Friday. Delivered by Hillier.

£14.99 Free delivery on orders over £499 (Addresses within the congestion charge zone will incur a surcharge)

Exceptional Item Surcharge

For over-sized items (such as heavy items over 10kg or large items over 1 metre) an additional surcharge will apply depending on the item and will be confirmed at checkout.

Confirmed at checkout.