One of the topics we most frequently receive questions about is our peat-free policy and products. There is a growing awareness among gardeners of the importance of protecting the important natural resource of peat bogs.
As we continually look to reduce the amount of peat across our business, we are introducing an increasing range of peat-free products at all Hillier Garden Centres as well as reducing the amount of peat we use for growing on our nurseries.
We highlight our approach to peat, along with our peat-free products available from Hillier Garden Centres, below.
---
Our Approach to Peat
Reducing the use of and sale of peat is an ongoing aim and we actively support research and development investigating alternatives to peat.
On our Hillier Nurseries in Hampshire, our plant production has moved from 75% peat free in 2020, to 95% peat free for 2021, with the aim of moving to 100% peat free for 2022, ensuring all home-grown plants sold in Hillier garden centres are peat free. Our container trees are all grown using 100% peat-free compost.
In our Garden Centres, we are continuing to introduce peat-free ranges, including our own Hillier Peat Free Multi-purpose compost. Browse details of our peat free-range below.
Find out more about our environmental policies and approach here.
---
Our Peat Free Range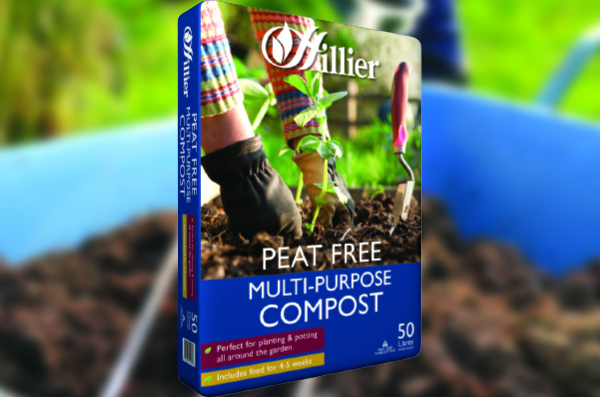 You can find a growing number of products that are completely peat-free at all Hillier Garden Centres, including our own Hillier Peat Free Multi-Purpose Compost, along with naturally produced soil conditioners.
Hillier Peat Free Multi-Purpose Compost
In spring 2020, we launched a completely peat-free version of our popular Hillier Multi-Purpose compost. It contains a mixture of west+ ((natural fibres to encourage good rooting), coir and composted bark plus fertiliser. This mixture creates a balanced compost with enough water and air to support root growth.
Discover more about our Hillier Peat Free Multi-Purpose Compost.
New Horizon Multipurpose Compost, Vegetable Compost & Tomato Planter
New Horizon All Plant Compost is a completely peat-free formulation, blended to suit all plant types. It uses Westland's Bio3 formulation based on biofibre – a totally natural, nutrient-rich fibre.
If you are looking for a natural compost for your vegetable garden, New Horizon All Veg Compost has been specially blended to suit all types of vegetables.
For growing tomatoes, New Horizon Tomato Planter is designed with peat-free compost, ready for you to add tomatoes, or equally chillies, peppers or cucumbers. It can be used all year round.
Bloomin Amazing Soil Conditioner
Bloomin' Amazing is a new product that works as a soil conditioner, easy feed and mulch in one. It is the solid by-product from a sustainable energy plant powering over 50,000 homes in Dorset with gas and electricity. Cereal crops are grown on nearby farmland (taking carbon dioxide from the atmosphere), harvested and processed in an "anaerobic digester" with specialised micro-organisms which release natural gas to be used in the local homes and to produce electricity. The by-products of this process are a high-quality liquid fertiliser that is re-applied to the next crops and Bloomin' Amazing which mulches and feeds your garden. It also acts as a natural deterrent to slugs and snails.
Discover more about improving your soil with Bloomin Amazing.
Coco & Coir

The Coco & Coir range of growing media products are all 100% peat-free, made from natural coconut husks. After harvesting, the coconut husks are stored, ground, washed, dried, and compressed. These husks are a natural by-product of the coconut farming industry, causing minimal impact on the environment.
Discover more about the Coco & Coir range
---
The Future
We know there is more we can do. With quality peat-free alternatives tried and tested, the biggest remaining challenge is to be able to source enough of the source material – such as wood fibre – to meet demand. This is something the industry is working on.
We also need to help raise awareness among gardeners about the existence of quality peat-free alternatives.
---