Christmas can be a time of great joy and many have it earmarked as a date where there will be celebrations! It is also a season of reflection, where annual traditions are anticipated and fondly repeated.
It is no surprise that we anticipate one of the most popular 'themes' seen in homes to be a classically simple one, in traditional shades of reds, greens and browns. This style brings in elements from nature, whether that's by foraging in your own garden or through ornaments that represent plants and woodland animals.
---
Your Classic Christmas Tree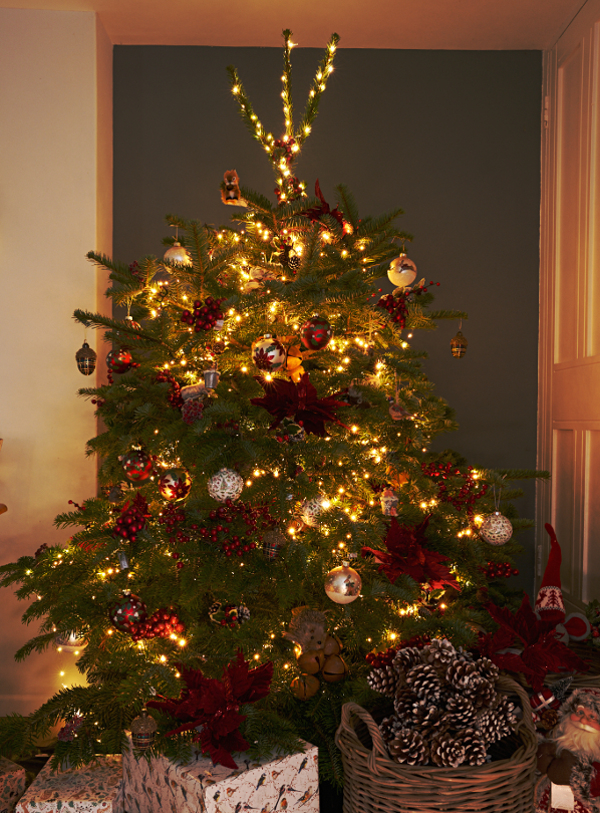 A classic themed tree exudes a happy warmth across the whole room, with the striking rich reds combining beautifully with the green needles of the tree and natural brown tones, along with charming ornaments of woodland animals. The perfect place to stack your presents beneath!
6ft Nordmann fir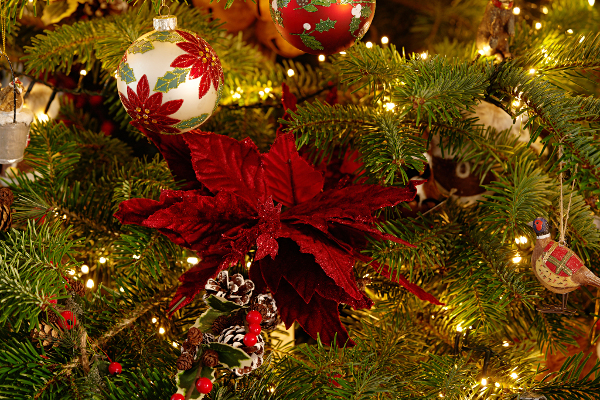 Poinsettia clip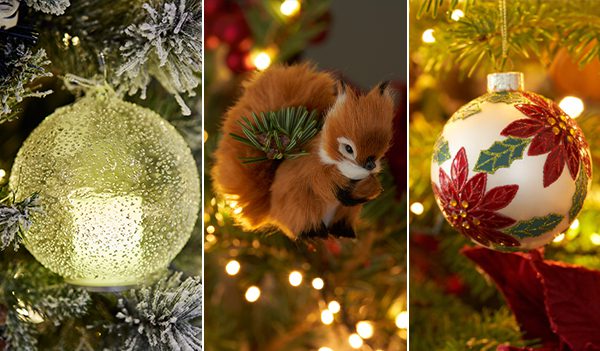 Crackle bauble; Faux fur squirrel; Matt gold glass ball with red poinsettia
---
Classic Wreath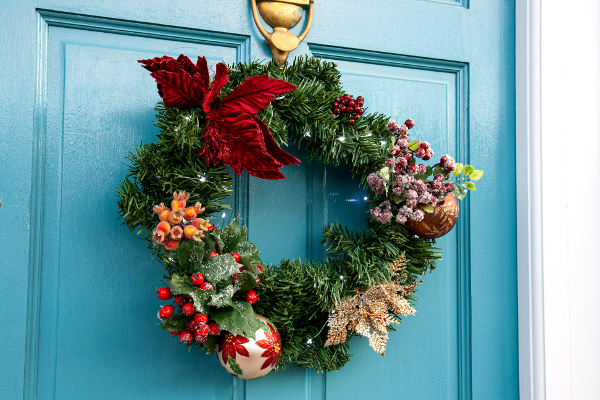 Wreath making is an opportunity to have fun. For a front door display that blends classical tradition with some flamboyance, wire Christmas decorations with a complementary theme – brown, cream and red baubles, glittering leaves, berry-shaped picks – into your wreath base. Carefully wrap a set of battery-powered lights around and tuck the battery pack behind the wreath to create a front door display that twinkles after dark. That will certainly catch the eye of all who walk past!
---
Curated Shelves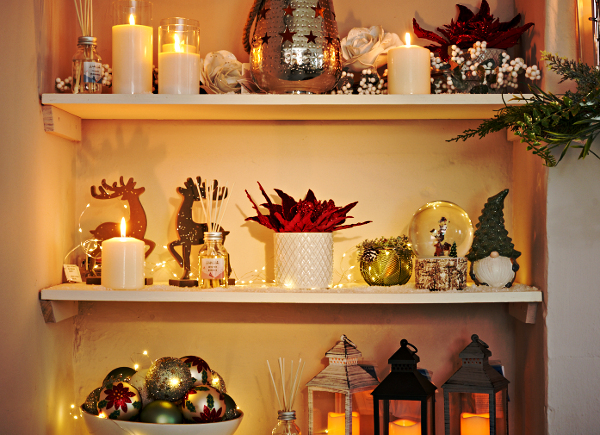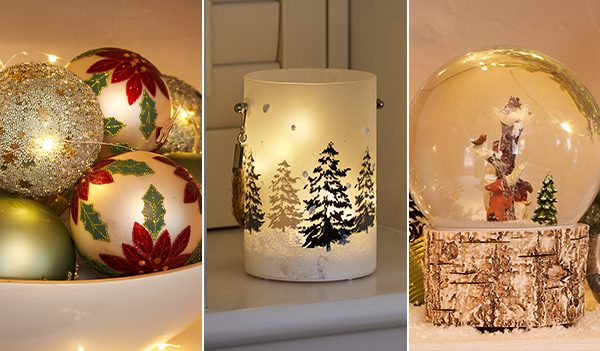 A shelf display is a little like your own personal gallery / museum. As curator, you have the freedom to bring together whatever combination of useful and beautiful items you would most like to see! Bowls of baubles, houseplants, lanterns filled with battery-powered candles, small festive statement statues and micro-LED lighting to showcase the whole show are some of our favourite additions.
---
Traditional Houseplants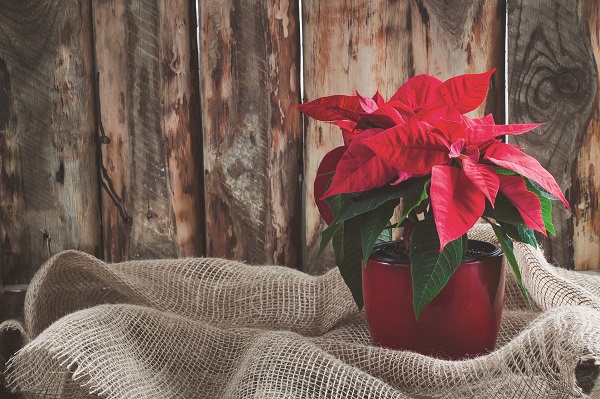 There are a world of wonderful and unusual houseplant varieties to choose from, but the most iconic of the festive season is the vivid red Euphorbia pulcherrima, better known as poinsettia. Another way to bring traditional tones to your houseplant display is to select a gold decorative pot – the ideal colour to make your plant the star of the show.
Read our guide to festive houseplants for more information on our range along with tips from our Hillier experts.
---
Dining in Style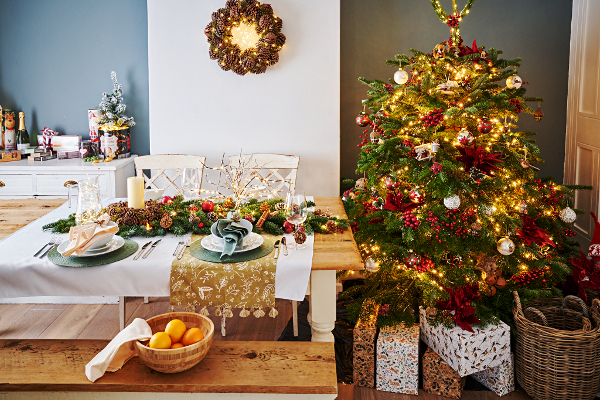 A beautifully decorated table sets the scene for one of the most important elements of Christmas Day: the shared meal.
6ft Nordmann Fir; Runner; Napkins; Napkin Rings; Pillar candles, Micro-LED battery lights, Flameless blow on/off tealights
---
Cosy Corners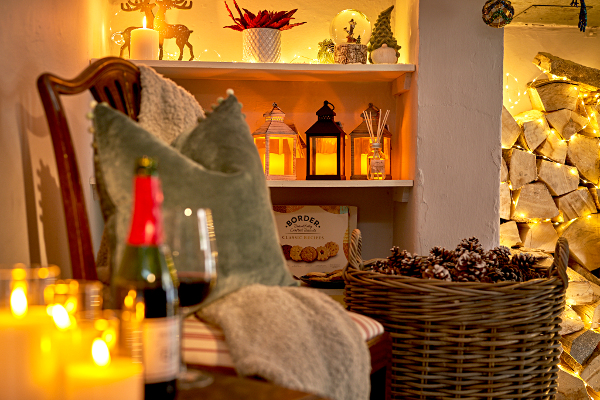 A cosy corner in the home provides a place for quiet contemplation or a nap after Christmas dinner!
Flameless candles; Throw; Cushions; Set of 4 wicker baskets; Battery-powered lanterns; Reed diffusers; Biscuit box; Micro-LED lights
---
Visit your nearest Hillier Garden Centre to explore our full range of Christmas products for a classically happy Christmas and much more. All items subject to availability.